FREE SHIPPING
Within 1-2 Business Days Throughout Continental US
346.221.2081
info@rutguard.com
FREE SHIPPING

Within 1-2 Business Days Throughout Continental US

346.221.2081

info@rutguard.com
using less to strengthen more
rutguard community
What our customers are saying
Browse what others are saying or leave a review of your own. Share your project photos in the review or send them to us at:
info@rutguard.com | 346-221-2081
Load Support | Slope reinforcement | erosion control
RutGuard® Provides solutions for
RutGuard® is the solution for erosion and base reinforcement that stops ruts and reduces maintenance by adding stability and structure to your sand and gravel.
Questions?
RutGuard® Support
Contact us at 346-221-2081 with any project questions or read through our support pages for frequently asked questions, tips and tricks.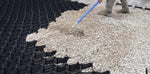 Ready to Install?
Check out our Installation page for our full installation guide, video, and more.
View Installation support