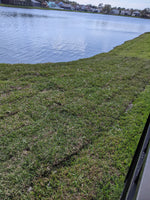 Eliminate Tire Tracks when Mowing | Stabilize Grass Vegetation with Geocell
A homeowner battling ruts in their grass from lawnmower tires. The grass would hold water and end up a muddy mess each time the grass was mowed. RutGuard 2inch Geocell was installed over a geotextile fabric, which created a separation layer between the subgrade and the top layer of dirt and grass. The geocell panels are flexible and easily able to be fit within the curves of the shoreline, showcasing their ability to fit almost any install area. A dirt and sod mixture was filled within the cells and grass patches were laid directly on top of the geocell panel. The yard is now able to be mowed without those lingering tire tracks and ruts. 
Benefits of Using Grass and other Vegetation with Geocell
Cellular confinement systems are ideal for vegetation and grass, as they not only create a sturdy foundation or base, but through vegetating the system, you are getting even more strength. The cell walls are perforated, which means that they have holes designed specifically to create a permeable system and promote root growth. Roots are able to grow through the holes of the cell walls, drainage is allowed to flow freely through the system, all while holding material in place. This eliminates the challenge of an oversaturated, soggy yard that we all battle from rain and irrigation systems.