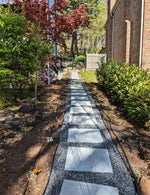 Reinforced Base for Paver & Stones | Less Prep-Work, More Strength
RutGuard 2" Panels are ideal for creating a solid base for pavers, stone, flagstone, and other materials used in patio and walkway applications. By using RutGuard Geocell in the preparation stage of creating your pathway, you are getting the same strength in just 2" of geocell, that you would be getting in half a foot of gravel or 10" of sand alone. In other words, you are having to do less prep-work, use less material, and invest less time and money into the project, while achieving MORE. 
RutGuard 2" panels were installed in this residential pathway that winds along the property at a slight slope. Because of their flexibility, RutGuard Geocell panels are able to stabilize the sloping terrain by conforming to the grade and curve of the desired pathway. 
The area was prepared, graded, and a separation fabric was installed atop the subgrade. The panels were then expanded throughout the area, and filled with a crushed, angular aggregate. The pavers were then installed on the top layer of the path.