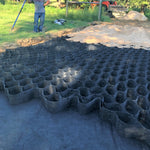 RutGuard 6in: Heavy Duty Reinforcement with Design Flexibility
An Arkansas resident was in need of a simple solution that would reinforce gravel throughout his property that would not only withstand typical passenger vehicle traffic, but also the heavy traffic flow of large vehicles as their new home was being built on the property. Around 5,000 square feet (23 Panels) of RutGuard 6inch was installed throughout the property over a layer of geotextile fabric. 
The cells were filled by pushing in the material using a front-end loader tractor as well as by hand with a shovel. The gravel used is known as SB2 Gravel, or sub-base gravel, typically known for its use in driveways as it contains fines which allow for great compaction. It is a crushed granite with similar characteristics of limestone. 
The driveway area was needing to be 12' in width. This was achieved by installing 1 full panel (dimensions of 8'wide x 28'long) alongside a 2nd panel, which was cut in half (4'wide x 28'long) and connected with large, heavy duty zip ties. The RutGuard panels are able to be cut down to size easily, with a box cutter, saw, etc. The ability to cut and reattach the panels showcases the geocell's ability to fit any project's dimensions. 
A completed photo is shown below alongside a photo taken mid-installation.