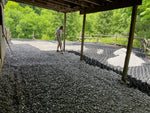 Permeable Solution for Muddy Yards
We're all familiar with the mud that forms after a heavy, or even light, rainstorm. Often times, muddy problem areas are due to lack of proper drainage, and the mud accumulates over time, you're left with a mucky area unfit for driving or even walking on.
Aside from minimal grading, and at times redirecting that water flow, geocell will help strengthen up that sub-base area by adding strength to the material confined within its cells. By spreading the weight laterally and keeping it from pushing it down into the sub-base area to form ruts and potholes, the material is now strong enough to support the weight of vehicles, tractors, machinery, livestock and more. 
Another key point to consider is the type of material that you're using to fill the geocell. If the existing material drains and compacts well, scoop it up and re-use it by placing it right back into the cells. Unlike other products, it is not required to use a high-quality material for the geocell to perform. With that being said, there are two main materials that you do want to steer clear of; heavy clays, and round, small, similar sized rock (often called pea gravel). Other than that, any other material typically performs well inside the cells.
Contact Us today to learn more about how you can use less to strengthen more with geocell.