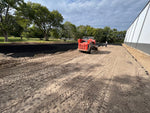 Geocell Infill Material - Do's and Don't's for Driveway, Parking, and Road Installation
For best results, it is crucial to choose a type of infill material that best suits project's site conditions as well as the application of the project. 
It is highly recommended to fill the cells with a crushed, angular rock (3/8") with a mix of fines in order to compact and create a solid base. Unwashed stones contain a mix of fines for the gravel to lock into place. The material needs to be fully compacted in order to best provide a solid foundation. That being said, a ratio of crushed rock to fines is recommended. 
"Washed" or "Cleaned" Rock Material
Washed stone gravel is great, but lacks the mix of fine material to help fill in the void spaces, which results in a less compacted surface.
Pea Gravel
Rounded, smooth, stone (such as pea gravel) typically does not allow the material to "lock" into place. Instead, go for a crushed, angular rock.
Sand
Sand is best used within the sub-base as a foundation, rather than the rolling course. For example, paver stone foundations, flagstone foundations, shed and building foundations typically work well with sand, but driving and parking applications would work better with an unwashed gravel.
Still Wanting that "Cleaned" Rock Look?
I
f a certain cleaned/washed rock is desired, typically speaking, some customers choose to fill the top 1" with a cleaned rock such as a washed stone for example. Something to consider with this application is the site specifics. If you choose to top your driveway off with a cleaned rock that is heavier/stronger/more compacted than the compacted infill within the cell below, there is a risk of the top infill pushing down into the bottom infill. That is why it is crucial to ensure that the material being placed inside the geocell is able to compact to form a solid base or foundation for the rolling course.