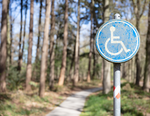 ADA Compliancy and Accessibility - Geocell
A common inquiry that we receive about geocell is: "Is it ADA Compliant?" When it comes to geocell, ADA compliancy is dependent on the material that the geocell panels are with. Typically, for pathways and trails that generally receive pedestrian traffic, a 2" to 3" geocell panel is recommended to hold the infill material in place.
A basic recommendation for infill material on a pathway or trail that is striving for an ADA accessible solution, is to use a wood fiber infill material. It is crucial to keep in mind that wood chips will typically break down quicker as compared to an aggregate mixture, and general maintenance will need to be performed in order to keep the panels filled. 
Click Here to view a guide that we have reviewed, that references wood fiber being used to stabilize accessible trails. 
For more information or further questions regarding your project or the RutGuard product, please call us at 346-221-2081 or email us at info@rutguard.com.