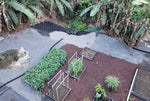 Sloped Garden Stabilization in Hawaii
On the beautiful island of Oahu, this Hawaiian resident was in need of a stabilizing solution that would prevent erosion within the sloped area of their garden. A total of 5 RutGuard 2" panels were used throughout the area. Mulch was laid throughout the designated gardening area, and the RutGuard panels were stretched along the outside perimeter of this garden area. The panels were then filled with a crushed, angular aggregate mixture which allows for great compaction and drainage, so that the water will drain out of the garden area to prevent erosion and ruts that occur from water saturation. 
RutGuard is a great solution for any climate, as it allows for local materials to be used inside of the cells to provide a solution for stabilization and drainage on slopes and flat surfaces.