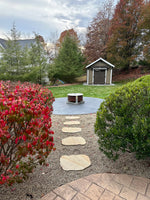 Foundational Support for Sheds and Buildings
In just 3" confined by filling the cells of RutGuard, the strength equivalent of 9" of gravel is achieved. This allows for less material and prep-work when creating a solid base for sheds, buildings, patios, and more. 
After the area was graded and leveled, a layer of fabric was installed before expanding out the panels.
The cells were then filled with #57 stone (sometimes referred to as 2b stone) around 3/4" - 1" in size. The top 1" was filled with 3/4" crushed limestone (1b stone) and then compacted and leveled before building the shed base. 
RutGuard provided a quick and simple solution up front, so that the solid base for the shed would remain even and level because of the strength provided by the geocell. The panels confine, strengthen and hold material in place to reduce routine maintenance caused by erosion, ruts, and shifting over time.