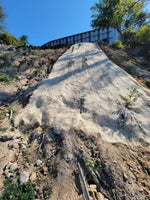 35 Degree Slope Profile with Anchoring | Lake Michigan Bluff
A homeowner whose home is perched along the bluffs of Lake Michigan, despite the beautiful lakeside views, was battling a severe erosion problem.The problem area was mostly at a 35° angle, with some areas exceeding. A mixture of RutGuard cell heights ranging from 3" - 4" was used along with curved rebar "j-hooks" were used to secure the geocell panels into the slope profile. 
The geocell panels were filled with a topsoil/aggregate mixture before seeding the top layer. The geocell was vegetated in hopes that the vegetation will flourish after the upcoming winter months, further strengthening the installed geocell system. 
For additional stability, tendons were threaded through the panels' slots, and spaced out to total 4 strips of tendon per panel. This is an optional method to be used within the geocell system and is strictly dependent on project specifics. Consult with your installer/contractor/engineer/landscaper on acquiring the tendon and for specifics on installation.