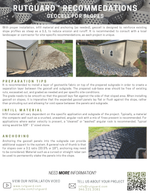 RutGuard Recommendations - Sloped Applications for Geocell Installation
With proper installation and infill material, geocell is designed to provide erosion control and stabilization to sloped profiles. The above guide provides key points to consider when designing with RutGuard® Geocell to stabilized sloped areas. 
Contact Us for project-specific questions on your sloped area.