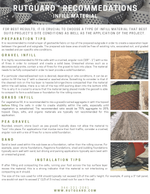 RutGuard Recommendations - Infill Material Suggestions for Best Performance in Geocell
RutGuard® is designed to confine and strengthen a wide variety of infill material in order to add strength and reduce erosion for several applications. To get the best performance and results with your RutGuard® system, it is crucial to use material that best suits the project's site conditions and application. The guide above provides detailed suggestions on some common types of infill material.
Contact Us with further questions and support on your project.