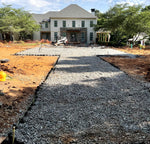 Reinforced Gravel Driveway - Benefits of Reinforcing Gravel Driveways for New Home Construction
Building a home starts with a solid foundation, so should your driveway. Reinforcing the gravel up front will save time and money now and in the near future.
New home construction comes with heavier and more consistent traffic than a residential driveway will typically see. Rather than laying 9" - 12" of gravel beforehand, just to have to repair it once the home is finished, consider RutGuard 3" or RutGuard 4" to hold the material in place. 
RutGuard Geocell uses cellular confinement technology to disperse the weight of traffic across, instead of down into the ground. This large mattress effect not only holds material in place, but also reduces potholes, ruts, and other erosion typically seen in unpaved roads and driveways. 
When you fill the cells of the RutGuard­, you're not only adding stability to the gravel or sand, but also cutting down on the amount of material needed; saving you time and money. Based on product testing and structural coefficients of infill material, when the gravel/aggregate is contained within the cells, the strength of the material is nearly tripled. In other words, inside the 3" panel, the strength equivalent of 9" of gravel is achieved, while inside the 4" panel, the strength equivalent of 12" of gravel is achieved. 
By strengthening the infill material and holding it in place to reduce erosion, ruts, and potholes, less routine maintenance is typically required. When the consistent flow of construction traffic comes to an end and the home is complete, a touch up at most will need to be done to ensure that the RutGuard panels are still buried and not visible to the eye. 
All in all, constructing a new home is exciting and all starts with a solid foundation. Your driveways and roads should too.