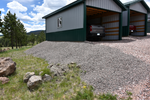 Steep Slopes Stabilized with Geocell
This Colorado homeowner used RutGuard 3" panels throughout their rocky mountain property to reduce erosion and washout caused by destructive rains. 
There were a total of 6 slopes that RutGuard was used to stabilize throughout the property. The elevated buildings where the resident's trucks are parked are stabilized with 3" geocell filled with 3/4" granite rock. The resident stated that they had received destructive rains and all of the rock that was installed and confined with the cells remained stable after the storms.
Don't let your money get washed away each time it rains - use less to strengthen more with RutGuard!