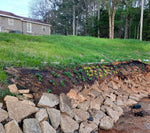 Sloped Flowerbed for Erosion Control - Reinforced with RutGuard
The backyard of a Mississippi home had a rather steep incline that was prone to erosion. With each rain, the dirt was washed away, creating a steeper and more prominent incline that dropped off into the lower portion of the yard. A solution was needed to hold the material in place, while also allowing water to flow freely through the system, while also looking presentable. 

Before RutGuard
After preparation of the area was complete, and a smooth, even sloped sub-base was created, the collapsed 3" RutGuard panels were laid across the top of the slope. With this being a steeper slope profile that also has significant water running through, the geocell was secured into the top of the slope using 12" curved rebar. The panels were then stretched down the length of slope and filled with a mixture of soil and mulch before planting ivy and plant bulbs throughout the top section of the slope.  At the bottom portion of the slope, a layer of large pieces of broken concrete were laid atop a layer of geotextile fabric. 
The grass and plants have since grown, leaving a functional, yet aesthetic solution to the erosion issue. By using RutGuard Geocell to confine and hold slope covering material in place, erosion and runoff is reduced while also allowing for drainage. 
Contact Us for specific project recommendations on your next project. Or check out our helpful guides below:
346-221-2081 | info@rutguard.com