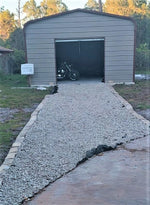 Pathway to Connect a Driveway to a Shed
RutGuard™ 3" was used to hold gravel in place in a pathway that leads from a driveway to a shed where this homeowner store their motorcycle. RutGuard™ was chosen to add strength to the gravel to provide a solid base for the motorcycle tires. RutGuard spreads the weight of the applied load laterally, holding the gravel in place. Because of this, the pressure from the tires will not create ruts and divots within the pathway, leaving the homeowner with a smooth surface that is not only visually appealing, but effective. 
Adding Edging to Your RutGuard™ Project
This customer used stone to line the outer edges of the pathway in order to add aesthetic appeal and an extra step to hold the structure in place. RutGuard™ is effective with or without the use of edging, especially if the panels are buried below the surface level, making the top layer even with the existing foundation.Typically, when the RutGuard area is built above the existing surface layer, adding edging to your project can be beneficial.