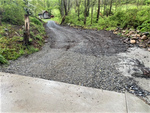 Low Water Crossing Near Culvert - Permeability and Drainage Support
6" tall RutGuard panels were used to reinforce a 700 square foot area that was constantly needing to be repaired and maintenance due to heavy washout and poor drainage near a culvert crossing in Florida. 
The geocell panels were installed on either side of a concrete low water culvert crossing that experiences occasional water flow. Because of the specifics of the project and area, including the state of the current sub-base and water flow velocity, the customer tailored the installation materials and procedures to the project specifics. Within the preparation stage of the project, the customer used two-dimensional geogrid as a base underlayment in place of geotextile fabric. The geocell panels were then zip tied together as well as to the geogrid. 
The panels were then filled with 1.5" crusher run gravel, which is a crushed, angular rock. A larger stone was chosen, as a more dense material was needed within the cells to hold up against the water flow. 
Because of the driveway's distance from a culvert and low water crossing, permeability was crucial. RutGuard Geocell provided a solid foundation, while also supporting permeability as water is able to drain freely through the filled system.