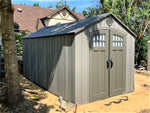 Using RutGuard™ in Your Foundations: Patios, Pavers, Sheds, Pathways and More.
Paver stones and flagstone patios look great but there is a lot of prep-work that must go into it and you still face the issue down the road of having those stones shift as the sub-base below it shifts. This can lead to broken stones and an uneven walking surface. 
RutGuard can not only reduce the amount of prep work, but also will help build a lasting structure without the fear of having your rock and stones shift. 
Typically, about 8-12inches of sand is needed to be compacted below any sort of paver stone in order to create a sturdy foundation. RutGuard™ Landscape is able to cut that down to 2" and still provide the strength of over 12" of sand. 
But How?
It's not too good to be true. It has to do with the RutGuard™ technology of expanding the load laterally, instead of forcing the weight down throughout the sub-base, which is what leads to those shifting stones and uneven surfaces over time. 
The Opportunities are Endless
RutGuard™ can add strength and stability while reducing prep work for a variety of applications such as paver/flagstone patios and walkways, shed foundations, small building foundations, and more.