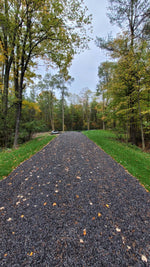 RutGuard Road | Local Infill Material
RutGuard was used by this New York resident for their road that winds through their beautiful property. Locally available material was able to be used, as it was placed into the cells and compacted, resulting in a reinforced road surface.  
The flexible panels are not only simple to install, but easily curve to fit the shape and size of any roadway. Once filled, the gravel material is held in place to reduce erosion, ruts and future maintenance cost by adding strength and structure to the material.