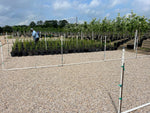 Foundation Support Repair - Tree Farm
A Texas tree farm and nursery was in need of a long-term solution for the repair of the sloped plots that support several heavy potted trees. 

These images show the foundation before RutGuard Geocell was used. 
Preparation:

The installation area was prepared per site specifics. The existing fabric and piping was removed and any existing ruts or potholes were repaired, ensuring a smooth, even surface. A layer of woven geotextile was installed directly atop the prepared subgrade area. 
Panel Expansion:
The panels were joined using large zip ties prior to expanding the panels out to typical dimensions, and then temporarily staked to help hold the cells open prior to filling. 
 The panels were then overfilled by 1-2" and compacted. Once the geocell panels are filled, they can immediately be used to withstand vehicular traffic and more. That's the power of cellular confinement technology. 
After installing 3" tall RutGuard panels, the aggregate base is now strengthened by about 3-times, resulting in a solid foundation by using less material. By confining material within the cells, the gravel is held in place and a large mattress effect is created, strengthening the sub-base layer to reduce potholes, erosion and ruts. This area withstands the weight of large trees and other planted structures, and by using RutGuard to support the structure, there is less possibility for the potted trees to sink into the foundation. There is slight slope to the area, and because of RutGuard's permeability, the panels allow for drainage through the infill material and cells. 
Contact Us for more information or pricing on your next project!