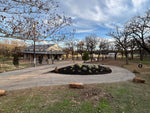 Circular Driveway Stabilization - Event Overflow Parking
This customer was in need of a quick solution for creating additional overflow parking for their beautiful event venue. A quick and simple installation with long-term benefits.
The HDPE plastic panels are flexible, allowing them to bend and curve with the contour of the installed area. The flexibility of the panels is also important to the preparation of the project. Though minimal prep-work is required, it is crucial to ensure that the area where the geocell panels will be installed is smooth, even and graded, and any existing potholes or ruts are repaired. This is because the panels are flexible to where they will take the shape of the foundation that they are installed; to ensure an even, smooth completed surface atop the filled panels, the base layer must be even and smooth prior to installing.