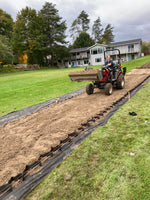 A Michigan resident with a beautiful lakefront property used (4) 4" RutGuard panels to reinforce their boat ramp that leads right to the waterfront. The panels were installed over a geotextile fabric and filled with local aggregate material. 
The sloped boat ramp is now able to support traffic from the boat and trailer, and will hold the material in place and reduce the amount of erosion the area will see.
Once the panels were filled, the ramp was immediately able to be used to access the water for the residents to enjoy using their boat.